Messaging
Bake a Cake and the Cherry on Top
Having coached hundreds of job seekers, I have observed that one of the most confusing aspects of the job search can be figuring out what to focus your job search on when you have had a variety of experiences that don't seem to be related. In fact, many candidates will try to isolate one based on things like:
Recency (this is the last job I had)
Tenure (I've done this the longest)
Expertise (I know a lot about this)
Passion (what I really care about is X).
This is sort of like saying I have Milk, Eggs, Flour and Sugar - which one should I use? Instead of looking at each of these individually, what if you take all of those great ingredients and Bake a Cake?
The framework below allows you to list out the different elements of your background, your heart for what you want to do, and identifying specific companies or kinds of companies who are hiring.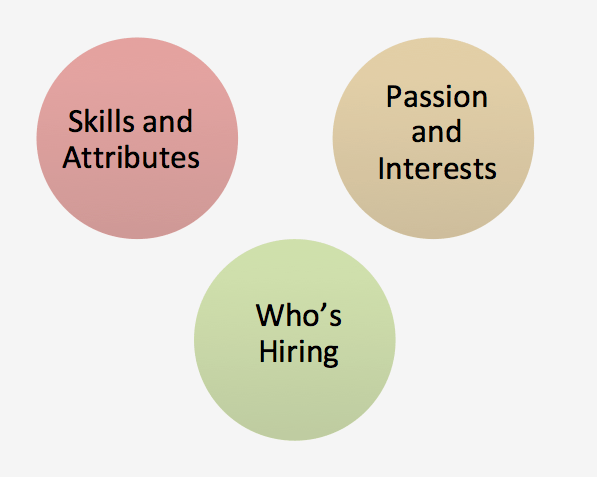 The intersection of these three circles is your cake. If you're familiar with Jim Collins' classic business book Good to Great, it's similar to the Hedgehog Concept.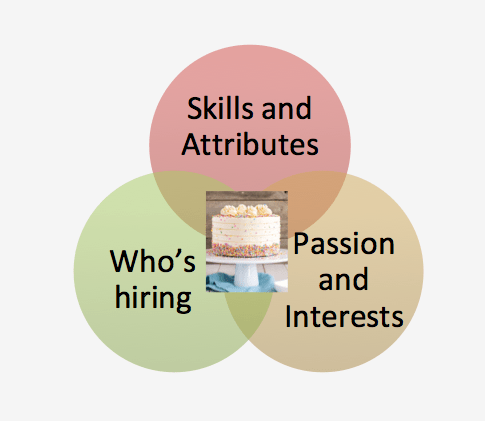 What's so powerful about baking your cake is that you create an incredibly unique, personal value proposition that no one else can claim. Instead of a messy "I've done this and that and the other thing and I'm really sorry my experience and passions are all over the map", you have a clear declaration of how your experiences, personality, and passions have led you to this point in time to deliver amazing results for your next employer. From there you can:
Articulate your value proposition to others
Better identify the kinds of companies you are targeting
Validate your credentials
Example from the real world
Bill is an operations executive who ran a Japanese-owned manufacturing facility for 13 years. He left that role to lead a non-profit as CEO for five years. Subsequently he accepted a job as the regional operations manager for a restaurant franchisee. In his personal life, Bill is passionate about the less fortunate. So much so in fact, he and his wife have four adopted children, all with serious special needs. Bill decided to leave the restaurant company to move to a city that had a world-class children's hospital. That move required him to quit his job and focus on packaging this quilt-work of roles and responsibilities into a cohesive set of experiences and attributes to land a job in the new city.
Let's look at the Bake a Cake framework for Bill:
Skills and Attributes
Crafting and implementing strong processes to improve efficiency and profitability
Designing and executing organizational strategy
Hiring, leading, and inspiring employees
Passions and Interests
Helping the less fortunate
Empathy for parents of developmentally disabled kids
Understanding of the medical community
Who's Hiring
Through exhaustive networking, Bill was referred to a fast growing but operationally stretched company who needed to bring in someone who had a strong background in scaling operations
This same company provides services to parents of sick children who are in from out of town to access the children's hospital
They were also looking for someone who could potentially take the torch from the founder and lead the next generation of the firm.
You can obviously guess the outcome of this true story. Bill is now the President and COO of the company, having been there for over 8 years.
Never apologize for the twists and turns your career has taken. All things work together for the good. Take the time to write out the first two circles (Skills & Attributes and Passion & Interests). It may not be perfectly intuitive at first. Ask other people who know you well how they would complete your first two circles. Once you have completed these, you will have a significant head start in being able to speak to the kinds of problems you want to solve for your next employer (that's your unique value proposition). You can use this to screen for employers who have these problems. Moreover, this will help your network think of people and companies they know that are trying to solve those problems.
Tell Me About Yourself - The Cherry on Top
Here's one of the most asked (and most dreaded) interview questions, "Tell me about yourself". If your heart sank a little when you read that, you're not alone. Why do we fear that one question so much? It's so open-ended and therefore can go in a lot of directions. Does the interviewer want to hear my life story? Go through my resume in chronological order? Do they want to hear about my family, religious beliefs or political views? Probably none of the above. What they are seeking is to see 1) how well you can communicate clearly and concisely, and 2) what you feel are some of the most important things to know about you. Unfortunately, many candidates give them neither. This section is a guide to confidently answering the question while guiding the conversation in the direction you want to take it.
In the previous section on Bake a Cake, we looked at a framework that consisted of Skills and Attributes, Passions and Interests, and Job Opportunities. We said that the intersection of those three circles is your "cake", i.e., your unique value proposition. We are going to take those same three ingredients and repurpose them to answer, "Tell me about yourself". In keeping with our dessert theme, this will be The Cherry on Top of your cake. The model looks like this:
Who I am is…
How that's played out in my career is…
Therefore, what I'm looking for is…
This simple outline will be a true north for you, allowing you to stay grounded even when asked a wide-open question like "Tell me about yourself". As importantly, you will clearly articulate your value proposition and why you are a great fit for the role you're interviewing for. This structure can also be leveraged as your Elevator Pitch as well as your answer to the question "Why do you think you'd be a good fit for this role?"
Who I am
This time our recipe starts with the human side of you, your Passions and Interests. When we're meeting someone for the first time, the ability to make a personal, even emotional connection is vital. It's the bond we make to one another that leaves us feeling, "I really liked her" or "I can see myself working with him." Oftentimes we may not even be able to articulate it, it's just something we feel. So, to help you flesh out some of these qualities, try to answer prompts like these:
· I'm passionate about…
· Ever since I was a kid I've been drawn to…
· Strength Finders/DISC/Meyers Briggs says I'm…
· I've always been told I'm…
· In my spare time I love to…
How that's played out
This section shows how who you are relates to your career. Critically, it will showcase a role and/or achievement that is based on the personal qualities you possess. This ties closely to the work skills you identified in Bake a Cake. To help you think about how to construct this section, consider these prompts:
My career has been marked by this theme
My career journey has progressed from A to B to C
In my last role I accomplished X because of my personality trait Y
What I'm looking for
Now we're getting the good part! By bringing the first two ingredients together in a cohesive way, it makes this final step quite logical. By now you should be able to complete the following sentences:
What I'm looking for is a role/company that shares my passion for X where I can contribute Y
What I'm looking for is a role/company whose culture / mission is X where I can contribute Y
Using the job description, information from other interviews you 've had at the company, or any other intel you have gathered will allow you to customize this section to the role you're interviewing for.
Examples
Let's look at some of examples.
1. I've always loved solving puzzles, whether it's crosswords or business strategy. My career has been marked by sales leadership roles that are entrepreneurial, like starting a successful new division at an established company or working at start-ups. I'm looking for a sales leadership role at a younger, growing firm in FinTech that will benefit from the success I've had building other businesses by getting the strategy right and then executing against it.
2. Education was always very important to my parents. As first generation US citizens, they emphasized this my whole life which led to getting my undergrad at Northwestern and my MBA at Wharton. This has continued into my professional career as I first became trained in classical CPG marketing at P&G, Conagra, and Hershey. For the past 10 years, I have mastered the supplier side at ResearchTech, leading the Health Care practice there for qualitative research. For my next role, I'm looking to bring the full complement of this for an insights firm who can capitalize on my deep understanding of clients, methodologies, and business development.
3. As a second generation American, I grew up in a bilingual household. I often served as the translator for my parents who knew what they wanted to say but struggled with English. After graduating from B-school from Wharton where I learned the language of business, I became fluent in CPG with successful brand roles at P&G, Conagra, and Hershey. For the past 10 years, I have mastered Health Care, sales, and qualitative research. I'm now looking for a role where my multilingual prowess in translating the needs of the client into well-designed research projects, and the results back into actionable insights, will help my next employer accelerate their growth.
4. My whole life I have enjoyed working on cool stuff that matters. As a girl, it might have been a disaster relief trip to Haiti or volunteering at the local soup kitchen. This trait has also found its way into my professional life, first in Market Research building out client-centered value propositions, and more recently learning data analytics tools that opened up significant new opportunities for the business. For my next role, I want to pour myself into a company that is meeting a market need that matters who can leverage my passion to bring data-driven insights to accelerate their growth and profitability.
By having this simple but incredibly effective structure, it frees your mind from having to memorize an awkward script or scrambling to cobble together a long winded narrative. When you are relaxed in an interview, you are operating with confidence. Moreover, you are hitting on the notes of being concise and clear, which is a breath of fresh air for the interviewer. Those first few minutes of the interview often determine their perception of your "fit" for the role and at the company.
Reflection
Have you been struggling with a career that has seemingly disparate experiences?
How does the Bake a Cake analogy help you see the unique blend of Experience, Passion, and Opportunity?

Take time now to complete the three circles to the best of your ability and see how they can be blended in different ways

How have you been answering Tell Me About Yourself? Do you think it has effectively communicated your unique value proposition and aspirations?

In what way can you now reframe your answer?
Pause to write down one or more versions of your new answer to Tell Me About Yourself