Outreach
How you go about your search says a lot about how you go about your job
Let's read that sentence again – how you go about your job search says a lot about how you go about your job. People will notice your attention to detail, timeliness, organization, thoughtfulness, professionalism, and so on. Your attitude, personality, training, and tools can all play a part in this. If you're depressed, you're less likely to be disciplined. If you have a task-oriented personality, you won't stop until every item on your list is checked off. If you've been trained in techniques to prioritize your work, you're more likely to get the big stuff done first. If you effectively utilize technology to be your friend, you can stay organized and expend less effort.
Attitude
If you're depressed, you're less likely to be disciplined. The feeling can be, "What's the point, it won't work out anyway."
If you are angry, this will inevitably surface when you talk about your career arc and how it is that you are now looking for a job – "I got screwed", "Everyone knows they didn't treat me well", "It wasn't fair",…
If you are keeping an even KEEL as described in Lesson 1, despite the barrage of rejection, your community of fellow job seekers and your faith that ultimately this is going to work out will be sufficient to keep you from being mired in negative thoughts too long.
Personality
My wife is very task oriented and I am very relationship oriented. She won't stop until every item on her list is checked off while I am easily distracted by opportunities to be social. I know this about myself and must be on constant guard to not let it get in the way of accomplishing real work.

I came up with the term "Netwasting" to describe the tendency to waste time in the name of networking. One common manifestation of this is spending too much time reading, liking, commenting, and sharing content on LinkedIn or other social media platforms. It may feel like being in community or personal brand building but at some point (probably more than one hour per day), it is wasted time.

Another form of "netwasting" is spending too much time talking with friends and others who are also in job transition. As started in Lesson 1, I am a huge fan of Community. However, it can also become a place of comfort and commiseration that gets in the way of the hard work of Preparation and Outreach.
Training
Take the skills and training you have accumulated and put them to good use in your job search. For example, using prioritization techniques like coding your to-do list with A for the most important, B for the next most important, and C for the least important and then working on them in that order. Similarly, many folks have learned to do the hardest or least fun tasks first (kind of like eating your peas first) before working on the easier or more satisfying tasks.
Tools
Let technology be your friend in your job search. Spreadsheets, reminders, templates, and the like can facilitate keeping you organized.
A caveat here is to not let learning a new technology become a replacement for the work of finding a job. Personally, I love databases that help me collect and code information. I just need to be careful to not let this consume too much of my day to the exclusion of what needs to be done.
Be organized
My very good friend Bill M. taught me a lot about being organized as I watched him in his own job search.  So much so in fact, that he inspired me to develop Career Club ONE™, a first-of-its kind Opportunity & Networking Enablement platform.  It combines a rich database of high-growth companies with a CRM (Customer Relationship Management) tool, allowing job seekers to identify well-funded companies with a contact management application to stay on top of all of your networking and active job opportunities.   If that isn't for you, Bill shared one of his best tools - a spreadsheet that looked like this: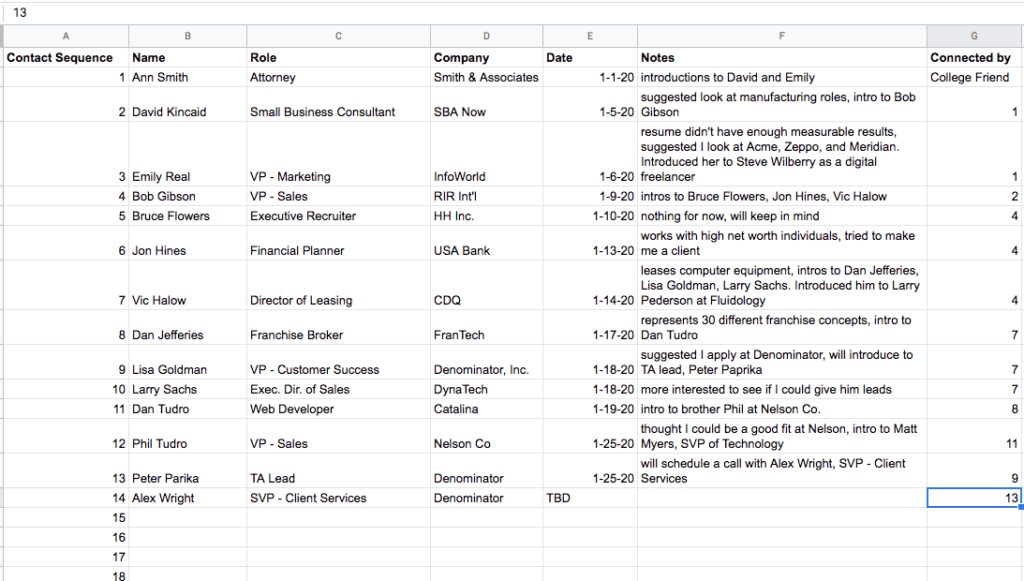 Another trick is the effective use of the Calendar, Reminders, and Tasks function in Outlook or G-Suite. If you say you are going to call someone back in three days, either put it on your calendar or set a reminder for that will pop up on your computer and phone. I know this sounds incredibly basic but you'd be amazed at the degree to which many people aren't even this organized. Shout out to Steve Dalton in The 2-Hour Job Search for emphasizing the importance of not just tracking what you've done but also what you're going to do. Pro Tip: Post-It notes are not the same thing! Your computer and phone are much better nags than a sticky note ☺
Networking Hygiene
You would never go on a date without brushing your teeth first (hopefully not!) In the same way, there is some basic hygiene you should always do when networking that will really help set the right tone for your meeting. One theme you will see across all of these suggestions is a focus on the other person. If you want to make the most of your future networking meetings, try these 10 simple but very effective tips to drive a mutually beneficial result.
1. Be on time, which means at least five minutes early. Your stress level will go down, you can grab a table, and it signals this meeting is important to you.
2. Do some homework (LinkedIn profile, company website, etc.) on who you are meeting with. Also know what they look like so you can easily spot them when they arrive. Make sure you have their cell number just in case you need to contact them (this came in handy for me just last week when I was at the wrong Starbucks across the street!)
3. Go in with the attitude of "How can I help the other person?" See Lesson 6 on "The Most Powerful Question You Can Ask".
4. If you asked for the meeting, please offer to buy the coffee, lunch, or whatever. Someone is going out of their way to spend time with you and picking up the tab is a small token of appreciation on your part. Most people will still want to split it but I've been in some awkward Starbucks lines!
5. If you are in transition, bring a copy of your resume and/or marketing plan. I'm amazed at how often this doesn't happen.
6. Have pen and paper with you. It shows you are prepared and who knows, the other person just might have something to say that's worth remembering or following up on!
7. Remember who introduced you. See Bill Mills's excellent article on The Work of Finding Work. When you are prepared and organized, it says volumes about your work style.
8. If you are going to ask for referrals (which you should do), ask, "Who else can you think of that I might want to meet with?" Posed as an open-end question, it prompts them to think of names. This is in contrast to "Can you think of anybody else I might want to meet with?" which could elicit a simple but unhelpful, "Not right now but if I do I'll let you know". You should always have your list of target companies and target people to help them identify where they can help. That list just may jog their memory whereas leaving it to their memory won't be as effective.
9. If there is an introduction coming from your meeting, offer to ghostwrite a couple of sentences about you and what you're looking for to help facilitate the introduction. This serves two purposes:
a. Makes it easy for them to cut and paste (and therefore much faster to write the introduction email)
b. Puts you in control of your message
10. Write a thank you note including any follow-ups you have to help to them, as well as the blurb suggested in #9.
11. BONUS TIP – If you are sending out the meeting invitation, please don't have the subject be the other person's name (Meeting with Joe Smith). When they look on their calendar that is not helpful. Instead, try this format, "Your Name : Their Name".
Network Meeting Outline
It is conventional wisdom that most successful job searches are found through networking. According to the Bureau of Labor Statistics, 70% of jobs filled are never posted. It follows then that networking is the key, but this assumes that the actual interactions that occur during networking meetings are productive. Because of my personal passion to help folks in career transition, I am on many people's short list of "you need to talk to …". Unfortunately, too many people come to a call or meeting like this very unprepared (see tips above). Moreover, they often defer to me to control the call (after all, the feeling is I'm doing them a favor by taking the meeting in the first place). While this may feel like they are trying to be polite, it can make the call very unproductive for both parties. My suggestion is to organize the call like this:
If a phone call, confirm this is still a good time for them
If a referral, acknowledge who introduced you to each other. This immediately establishes something you both have in common. Otherwise start with one or two of Rock's Fab 5 from Lesson 6.
Thank them for their time and offer that while you appreciate their willingness to help you, you also hope to be able to help them in some way if possible (see Lesson 6 - The Most Powerful Question You Can Ask).
Be ready with your Tell Me About Yourself message (see Lesson 4 – The Cherry on Top). You must be able to articulate a bit about yourself and what you're looking for. If you don't know what you're looking for, it's guaranteed they won't know. (Lesson 3 – The Junk Drawer)
You must have a list of companies and people who are on your target list that you can share. People are much better at reacting to a list than they are answering a question like, "Who can you think of?" Your ability to get a referral is greatly enhanced when you do this simple step.
Ask what other advice they might have for based on what they've learned so far.
Make sure you leave enough time to sincerely ask how you can be of help to them. Hopefully, you learned something about what they do, their family, their hobbies or passions to be able to make an introduction to someone they would probably like to meet.
Agree on follow-ups. As noted above in #9 in Networking Hygiene, offer to ghostwrite any introductions for them. If you have offered to do something for them (hopefully!), be prompt. It is a major indicator of your sincerity.
End on time. This shows respect for the other person's time and hopefully you have more networking calls to make.
Building a Pipeline
We noted in the Introduction to the course that the very good news is you only need one customer (your next employer).  Unlike a company or salesperson who needs to be constantly adding new clients, you have a quota of one.  At the same time, you do need to think about this in the same way a salesperson builds a sales pipeline.  The concept behind a pipeline is like a funnel: a lot goes in at the top and much less comes out of the bottom.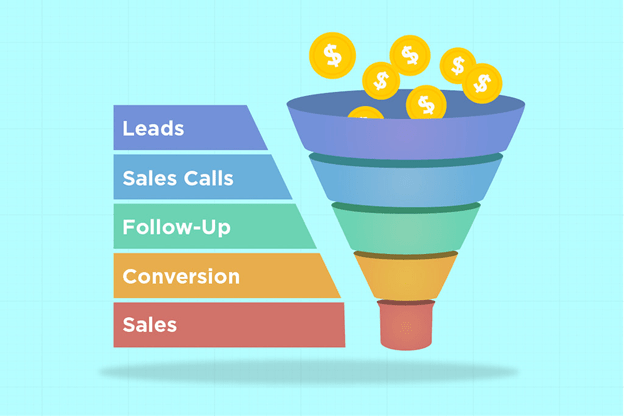 Leads

It starts with a lot of leads at the beginning. This is your target list of companies. It is generally better to have more leads than less at this stage but there should definitely be some thought and rationale about who makes your target list. Lesson 6 on Bake a Cake should help inform this quite a bit based on your unique value proposition.

Network contacts and executive recruiters do not qualify as leads. They are more like Marketing that should generate leads. Unless someone can hire you for the role you are looking for, they are not a lead.

Sales Calls

These are outreaches and interactions with the companies on your target list.

Online applications do not count as a sales call. The chance that anyone is actually reading and acting on your application is remote so let's not get deluded that the 100 online applications are the same thing as 100 quality sales calls.

Follow up

There are two essential elements to this step. One is timeliness and the other is value. In Lesson 8 we will look at creating Proof of Capabilities projects (POCs) that move the conversation from "Hey Julie, just checking in" to "Julie, here is a SWOT analysis I put together based on our conversation. Can we schedule 30 minutes over the next week to review?"

Conversion

This is the interview phase where you are actively working to get one prospect to say YES

Sales

This is the day you sign your offer letter!
You may have heard the old adage that "Sales is a numbers game" and it is mostly true. The more prospects you have, the better odds of finding one that will convert into a sale. We know that at each stage companies will fall out of the funnel so there needs to be ample supply at each stage to get to that final one company who extends an offer. It's quite common in business-to-business sales for a sale rep to have three times the needed dollars in pipeline to make their quota. They know not everyone is going to say yes, or say yes at the same time, therefore they need a lot of opportunities so that as the deals go through the funnel there are enough dollars at the end to hit their number.
In a job search all of this logic holds true, with the one twist being it is about Units not Dollars. Our quota is one new employer so we need enough of a pipeline of potential employers to get to that one within a certain timeframe (say three months). Too often in a job search the pipeline is too small, either through a lack of potential employers or when a company is indicating interest in hiring you and you take your foot off the gas pedal. The Sales Road is littered with salespeople who sat on that one "sure deal" that never came to fruition. So how do we identify enough Leads?
Generating a list of Target Companies
Everyone is looking at The Largest 50 Companies in <<insert your city here>> lists. And maybe it is appropriate that they are on your list, too. The issue is that they are on everyone else's list so just go in knowing there is already a high level of competition for a finite number of jobs.
Do you have a library card? If not, go get one now (seriously, right now). Libraries have a wealth of information available, for free, that you can access online. One of my favorites is Data Axle. While not perfect, it has literally millions of companies in it that are often not on people's radar screens. It even has a Competitors tab to help identify similar companies.
Other great resources for identifying companies are:
Where are former colleagues working now? If you guys used to work at the same company on similar projects and they landed somewhere else, it follows that your skills should also be transferable there as well. LinkedIn is the obvious choice here.
Built In – this is a great resource for identifying growing tech companies in NYC, Boston, Austin, Chicago, LA, Colorado, Seattle, San Francisco as well as remote-based roles
Crunchbase offers daily newsletters on who just got VC funding. By definition, these companies have money and are hiring across most functional areas.
Google the name of a company on your list + "zoominfo competitors" and you will get at least five competitors in the search results. Then take those company names and do the same thing again. You will have a rich list in 15 minutes!
Craft.co has also been recommended by several readers.
Reflection:
Since Lesson 1 on Attitude, have you found your attitude improving as you see a path to getting a better job faster?
We described "netwasting" as doing busy work in the name of networking that in reality is taking you away from the harder but more important tasks. Does this ring true in your case?

What one thing can you STOP doing today that is distracting you from the task at hand?

What one thing can you START doing today that will advance your search?

In terms of the organization of your job search, are you winging it or are you pretty buttoned up?

Is a lack of organization causing you to feel stressed?

Have you missed follow ups or forgotten something important where being better organized would have helped?

How rich is your pipeline of opportunities?

Have you been sitting on too few eggs praying one of them hatches?

Were some of the recommended data sources new to you?