Outreach
Direct Contact - Making Your Own Weather™
Imagine a salesperson who hasn't made a sale in months explaining to their boss that:
they are replying to Requests for Proposals (RFPs) they found online
they are working potential referral sources
they are constantly meeting with people in the industry to identify leads
While there's nothing wrong with any of these, every salesperson in the world knows you also have to make a lot of cold calls to real prospects to build a pipeline of opportunities. So why should it be different when you're selling yourself to a future employer? It shouldn't! But if we look at the typical job search, it is awfully similar to our unsuccessful salesperson:
LinkedIn postings and job boards that lead to black holes
recruiters who never call you back (after saying you're perfect for the role)
countless networking meetings that keep Starbucks in business (or now Zoom) but don't seem to lead to anywhere.
The common thread in these three approaches is they make you dependent on someone else to do something for you. So, if you don't like the results you are getting, there is another major highway available to you – directly contacting companies that you are targeting – or, Making Your Own Weather™.
In this lesson, we will review the basic idea, provide a template that you can reuse to gain some efficiencies in the process, consider how to customize each outreach to feel very personalized, the best way to send your note, and follow up. We'll also look at a representative letter you can use as a starting point.
The Basic Idea
The concept is to send your correspondence to targeted people at targeted companies, irrespective if there is an opening or not. In fact, it may be that you are creating an opening either to make room for someone with your skills or to drive change in a situation where they have tolerated someone who is OK but definitely not as good as you.
Making Your Own Weather™ is based on some very basic selling skills:
Have a target list of prospects
If you don't know who you are looking for, it's likely you won't find them!
See the Lesson 7 for identifying target companies
Once you have developed the list of companies, you need to figure out who the leader of the functional area is you would be directly reporting to or up to. Google and LinkedIn are great resources in this regard.
Have a good idea of what their needs likely are
This is a key step in the process. You have to invest time here and there are no shortcuts. This time is well invested though because you are creating relevance, which is the key to breaking through the clutter and getting someone's attention.
Search the company's website, Google, Twitter, Facebook, and LinkedIn for clues on recent company events, new product announcements, location openings/closings, quarterly financial presentations, industry event presentations, etc. The goal is to find a nugget that you can use as your hook to demonstrate you understand what the company is facing or trying to accomplish. If possible, find something directly relating to the person you're writing (Susan – your comments on The Bright Ideas podcast). Next best is something about the company (Susan – Trident's 3 Strategic Pillars). Lastly, if you cannot develop anything specific on the person or the company, demonstrate your knowledge of the industry (Susan – Retail Omnichannel Challenges). This is also a good way to ask your network to help you get specific industry and/or company knowledge you can leverage in your note.
Knowing your value proposition to address their needs
Equally important to understanding the issues the company is wrestling with is being able to effectively articulate how you can add value.
Using the lessons in the Messaging section of this course, you now know how to identify and express your unique value proposition.
Develop a POC (Proof of Capabilities) that goes one step beyond your personal value proposition and effectively demonstrates your understanding of their business or industry. We cover this in more detail in later in this lesson.
Being proactive
As we said at the beginning of this section, the beauty of Making Your Own Weather™ is you don't need anybody to do something for you, this is all under your control.
Now that we know who we want to target, their issues, and how we can be of help to them, the next step is to craft a templated but personalized letter to the key decision-maker(s) at the company. We are NOT sending this to HR or Talent Acquisition!
My recommendation is to send the correspondence via overnight mail, not email to your highest priority opportunities. We all know people's inboxes are overflowing and it makes anything non-urgent easy to blow off. If your letter comes in express mail it implies a sense of urgency and importance. Who has ever thrown out a FedEx letter without reading it first??? You can use USPS Priority Mail for about $7.50.
COVID UPDATE - obviously in the pandemic environment, most people are working from home so an overnight letter to the home office may never find its intended recipient. In my experience, email is still preferable to LinkedIn messages but the key here is the subject line. Always start with their first name and then a clue as to why you're writing them. Examples might look like:
Susan - Your comments in the Wall Street Journal (TED Talk, Podcast, etc.) In this model, their ego compels them to open the email.
Susan - Analyst question on your earnings call. In this case, if you have something to say related to their stock, you're relevant.
Susan - Scaling a SaaS business in a COVID world. This kind of subject line speaks to what's keeping her up at night.
Being appropriately persistent
When most people have resumed working from an office location, a great aspect of overnight letter approach is it gives you a credible reason to follow up with the addressee. This can be done via email (Chris – my FedEx note to you) or by phone call ("Chris, I'm following up on the note I overnighted to you on Monday").
More than the usual, "Hey Susan, just following up on my note" which doesn't add any value to the recipient, you now have some real context for your follow up (Susan, the more I think about driving omnichannel synergy at Trident, I believe there is somewhere between a 3-5% unrealized growth opportunity worth around $15MM)
Template
There is a simple and repeatable process for taking the nugget you find and weaving it into sales gold. This is a model consumer insights professionals use to transform data from "nice to know" to compelling recommendations for decision makers to act upon.
What?
This is the fact or observation you gleaned from your investigation of the target company. As mentioned above, it can be personal to the individual you are writing, specific to the company, or applicable to the industry the company is in.
So What?
Here is where you add value to the observation. It is the difference between saying "Congratulations on your 20% growth in 2019" and "Companies like Trident that are growing at a double-digit rate often find that the scalability of their sales model becomes increasingly challenging".
Pivot - introducing yourself as someone who can help solve for the issue you identified in the So What sentence(s).
Now What?
The Now What phase is closing to suggest a conversation (in person if local, by phone/Zoom if not) to explore how you can be a value-add to their issues and whether a next step from there is warranted or not.
Example
Hi Susan,
Recently, I have been researching Trident and I came across your comments on the Bright Ideas podcast last month. WHAT - One insight you shared that particularly resonated with me was the assertion that marketing research will never get a seat at the table until it can tie research projects to real business results. SO WHAT - My experience is that the key to making this transformation is driving a greater focus during the initial scoping of projects to identify exactly what actions will be taken once the project is complete. Absent that, most research is destined for the "nice to know" file. PIVOT - My career has been helping companies like Trident achieve exactly what you described. By way of background some relevant accomplishments include:
· Led insights team that achieved 17% share growth YOY, worth approximately $54MM in incremental sales, by replacing traditional attitudinal segmentation model with actionable Need States methodology for digital ad targeting
· Re-engineered research brief process resulting 20% improvement in research turnaround due to doing the right research right the first time
· Identified 39% advertising spend inefficiencies resulting in a $17MM re-deployment from TV to more effective digital ads
NOW WHAT - Can we find 30 minutes over the next two weeks to get acquainted and explore if my skills are a good match for Trident? From there we will both likely know if there is a basis for continuing the conversation or not. If we haven't had a chance to connect and set a time by the 13th, I'll follow back up with you.
Thanks so much and I look forward to speaking with you soon.
PS: This is an approach I have successfully used (with a twist). I first identified the top firms and CEOs in my industry. (Full disclosure - I sent my notes via email in a day when email wasn't nearly as overwhelming as it is today.) My phone rang off the hook, often from the C-level executive responsible for Sales. In one case, the Talent Acquisition leader reached out saying his CEO asked him to call me to follow up. The TA person asked me if I had already been speaking with another firm in our field and I said no, they were a little off-target for me. He replied that they were looking for someone with my exact background. Turns out he had only been at his current employer a month or so and his last company had an opening for a sales leader. He gave me the name, number, and email address for the hiring manager with his encouragement to use his name. I said thank you, hung up and immediately dialed the new contact.
Long story short, I had a job offer in three weeks and spent the next four years at this company. Had I not been Making My Own Weather™, this opportunity would never have come to me. You can do the same thing, but the key is getting started!
Find a Friend at the Target Company
Use LinkedIn to find someone at your target company who can help you. You can easily Search for people who work there that went to your college or worked at one of your previous employers. You have a natural connection with that person and they are more likely to want to help you.
Here are some screenshots (as of August 2020) starting with Company (in this case Accenture).  From the Company page, click on "See all employees" link.

Click on All Filters
Add your School or Past Companies to find people who work at Accenture who either went to your university or used to work at a company you did too.  In this case, I selected the University of Tennessee, Knoxville (my alma mater) and clicked on Apply.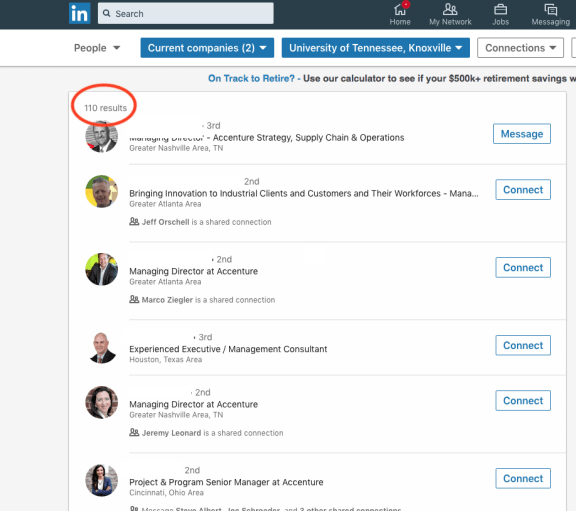 Boom! I just found 110 current Accenture employees with whom I have a natural connection by virtue of the fact we both went to UT (Go Vols!) I grayed out their names but in real life they would be listed. I might further filter these by location or job function to identify the most relevant contacts at Accenture I could reach out to.
How to reach out to someone who works at the company
This is actually pretty easy. You have a few options:
Since you're already in LinkedIn, you can simply Connect with them and once you will see an option that looks like this:

Just add a personal note thanking them for connecting and saying you are interested in learning more about Accenture and were hoping a fellow university alum might be able to give you a few minutes of his/her time. There are enough people in this world who want to help that you will get folks accepting the connection and being open to speaking with you.
Instead of a LinkedIn message, you can simply use email. What if you don't have their email address? This is generally so simple to figure out that it doesn't merit much time here but just to cover our bases, you can try these hacks:

If you did connect with the person on LinkedIn, their email (personal or professional) will typically be available.

firstname.lastname@companydomain.com

Austin Belcak at Cultivated Culture (a great resource if you haven't found him yet), offers a free service called Mailscoop.io

Super simple but effective email or LinkedIn template from my friend Elizabeth Morgan, recruiter at Google:
Hi blank,
We have blank in common (skill, college, interest). I've been following your posts for quite a while and I really admire all you've done and accomplished with (specific experience they have that you resonate with and WHY) If you're willing, I'd love to connect with you and learn more about you.
Thanks!
Proof of Capabilities (POC)
Much like we covered in Lesson 5 in Adjectives are not Accomplishments, demonstrating your value is much more effective than claiming your value. Depending on your background and desired role at the company, there are a myriad of ways this could take shape:
Redesign of a web page/section/site
Redesign of the customer service experience (especially if you have firsthand experience with how it happens currently)
A SWOT (Strengths / Weaknesses / Opportunities / Threats) analysis – we'll look at my friend, Peter Bond's example in a minute.
Go-to-market plan
First 90 days plan
The idea here is to do real work (sorry, no shortcuts) that brings to life how you would bring value to the company. In Lesson 9 we will look at some ways you can dig up valuable information on a company to help inform your POC. You obviously can't do this for everyone but there are some potential efficiencies:
Companies in the same industry tend to wrestle with some of the same issues. In my field, Market Research, most providers are good with the technical or methodological aspects of their services but really struggle to bring in new business. I learned that by being able to provide a clear plan on bringing in new clients over the next 90 days, including names and dollar amounts, was very compelling.
Likewise, companies of the same size, in the same geography, etc. may have similar issues.
If you don't need this step to get interviews with the companies you have targeted, this work can come in really handy later on during the interview process or as a follow up after the interviews. This is way more powerful than "Hey, just following up to see if there is an update." Instead, you can say, "As I thought more about the opportunity and what I learned about Acme's challenges, I thought this SWOT analysis might be illustrative of how I could hit the ground running as a productive member of the team. Can we find a few minutes to review together?"
I mentioned Peter Bond and his SWOT analysis earlier. Peter was interviewing with a leading consumer reviews company in Chicago called PowerReviews. PowerReviews is well known in their space, has been growing quickly, and is a desirable place to work. Peter knew he would need to do something out of the ordinary to rise above the crowd. Here's a synopsis of his journey:
Saw PowerReviews was hiring based on a posting for a Chief Marketing Officer role
Contacted the CEO remarking on the CMO role but saying he wasn't actually interested in that but rather to lead a new position focused on Consumer Packaged Goods companies (CPGs). Peter's deep experience with retail and CPGs told him that there was a big opportunity for PowerReviews to repurpose the rich user-generated reviews they had and take it to CPGs as a scalable way to drive innovation and improved consumer experience. So far so good but he didn't stop there.
After an initial discussion with the CEO, Peter suggested he meet with several other senior leaders at the company to gain more insight into the company and its priorities. Coming out of those additional meetings, he drafted his SWOT analysis to clearly and in a most compelling way, demonstrate his value proposition. (See full document in Appendix). As opposed to emailing it first, he scheduled a time to walk the CEO through the analysis. This kept him in control and created another event to continue to build rapport and credibility.
As you can easily surmise, Peter landed a great job where he is still thriving two years on.
Your time may be much better spent developing a handful of POCs than spending the same number of hours rewriting your resume and cover letters for hundreds of online applications that go nowhere. It may also be this is a more productive use of time meeting with more random people in the name of networking. This approach is focused, differentiated, and it works.
Reflection:
Have you been maybe a little too reliant on others versus being more proactive in reaching out to potential employers?
How has this lesson challenged your existing approach to consider direct outreach?
Does the idea of fewer but higher quality activities resonate or feel counterintuitive to you?
Does it feel uncomfortable to think about "cold calling" contacts you've never met?
In what ways does having a valid business reason for initiating contact lessen the anxiety of direct outreach?
Take time now to draft 3-5 bullets that highlight your SO WHAT proof statements that you could consistently use in a direct outreach email