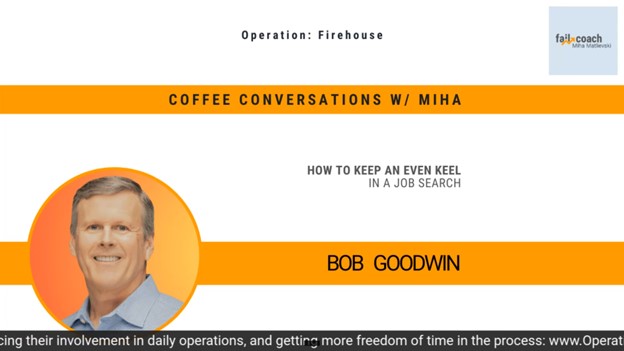 Fail Coach: Listen to Bob's Interview on Coffee Conversations w/ Miha
HOW TO KEEP AN EVEN KEEL IN A JOB SEARCH
Check out Bob's recent interview with Miha Matlievski on his podcast, Coffee Conversations w/ Miha.
Bob has faced the unwanted circumstance of having to find a new job. He discovered that many of the sales and marketing principles he had learned in his career directly applied to selling himself to his future employer.
Beyond that though, he also observed that a job search is an emotionally draining process for many given the high level of rejection, the hurt they may be feeling from having lost a job, the separation from colleagues, the profound brokenness of the job search process (for candidates and employers) and the financial stress a loss of income causes. As a result, Career Club was founded to help people who are in job transition learn how to GET A BETTER JOB FASTER.
When to change a company or role [3:05]
Importance of keeping an even KEEL [6:39]
Technical skills can be taught but being adaptable can't [14:27]
"The Perfect Resume" [22:52]
"We not I" mindset [29:40]
Last thoughts [34:25]